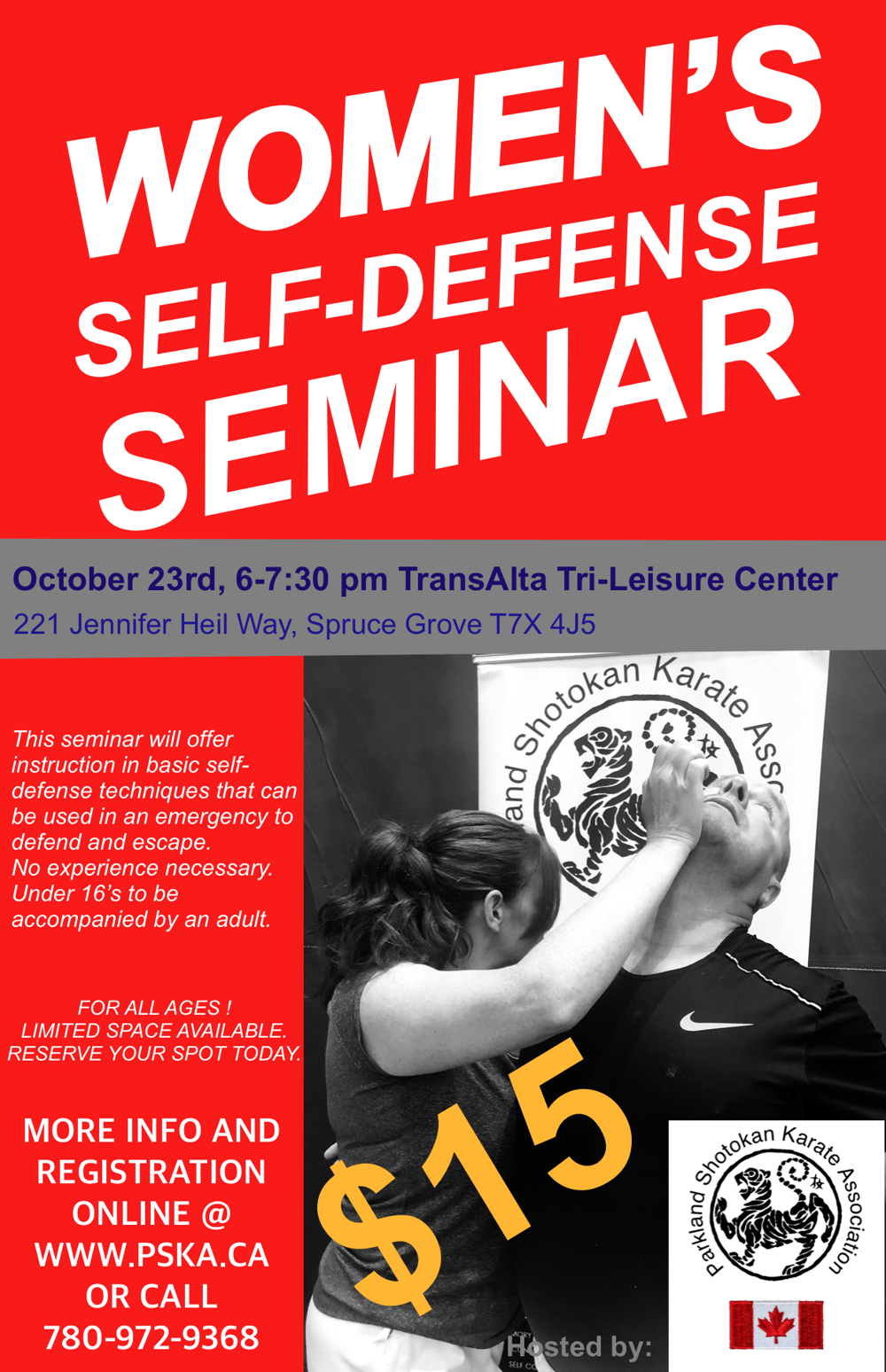 Women's Self-Defense Seminar
NOTE Date Change:
October 23rd. 6:00-7:30PM
TransAlta Tri-Leisure Centre Spruce Grove
Built on the premise that when equipped with some basic self-defence knowledge, women young or old, city dwellers or country residents, can have confidence in their personal safety and protection and can be key to helping you escape from an attacker. In this seminar, participants will be introduced to physical self-defence techniques designed to escape common threats. This is not a martial arts class, but rather a common sense approach to dealing with attempted physical violence and abduction. Physical prowess and strength are not required to effectively participate and accomplish these techniques and no martial arts experience is necessary.

Welcome to Parkland Shotokan Karate Association - PSKA
A registered non-profit organization providing Shotokan Karate to the community Check out our Blog page for latest information
Karate Instruction
Classes available through PSKA for self development, self defense and sport.
The PSKA is a registered non-profit organization in the Province of Alberta whose Instructor and Board are all non-paid volunteers. Proceeds support the organizations growth and sustainability in its mission to provide Shotokan Karate to the community.
CSKA Shotokan Karate Syllabus
Traditional karate training for progression through belt ranking from the CSKA Syllabus. Building healthy bodies and minds.

Novice and Advanced training in a positive environment. See Schedule & Location page for class times.

$65 per month - 20% discount for Additional Family Member ($52). Billed monthly - no contracts!




Private Sessions


Private sessions tailored to your needs for CSKA Shotokan Karate, Self-Defense and Sport Karate.
Benefits of Private Sessions:
Your instructor will work at a specific pace.
Your instructor will give you personal attention to your training and provide a customized training plan.
You can set the lesson based on your needs and interests.
Private sessions are flexible and convenient.
Focus on your goals and objectives.


What is Shotokan Karate ?
Karate is a discipline, a fitness regimen, and a form of self-defense that's useful for all ages. Research shows that Karate offers a myriad of benefits for the body and mind. While the physical benefits and advantages of Karate are apparent, the mental benefits can't be discounted.